STUDY AT THE HEART OF A HISTORIC CAMPUS
Discover the Grand Est campus and study in the "ville des sacres"!
Reims boasts a number of assets that make it a particularly attractive place to study: 40 minutes from Paris by TGV, France's 1st gastronomic city, an art deco town and UNESCO site, a world competitiveness cluster in bioeconomy…and of course, places for young people. Come and share the life of over 20,000 students in Reims by joining the Groupe de la Salle campus, the first school in the Lassallian network created over 300 years ago. The campus is located in downtown Reims, near the Cathedral.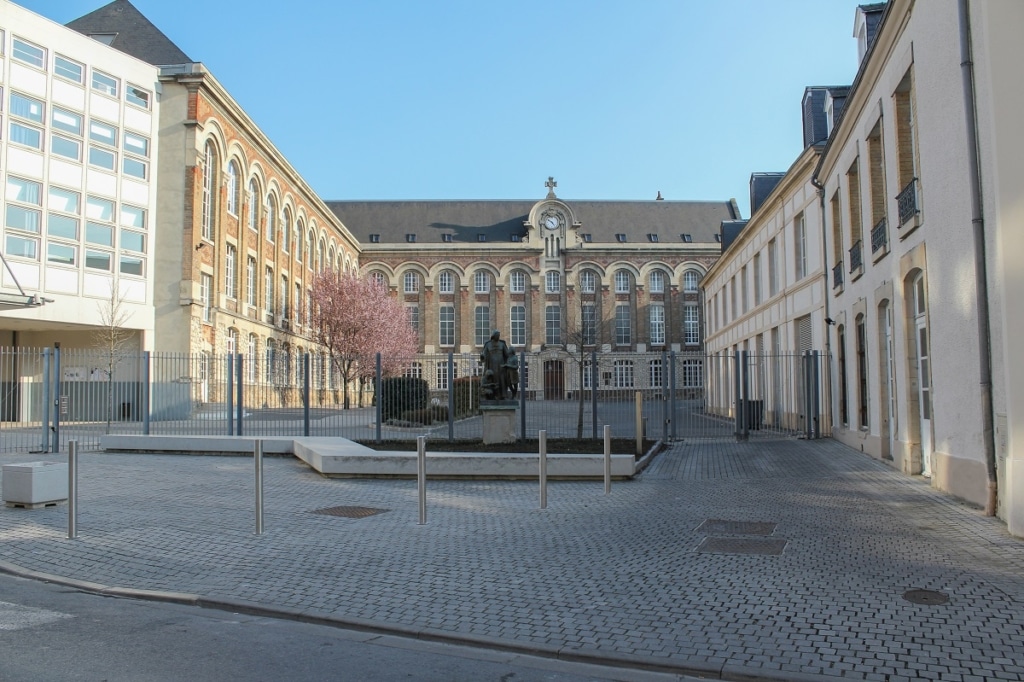 27,3%
of the population is aged 15-29
500ha
public parks and gardens
EVOLVE IN A CITY ON A HUMAN SCALE
The Grand-Est campus is located in a vibrant student city. Reims is home to over 20,000 students. It's a city renowned for its ability to provide a pleasant and dynamic environment in which to live and study.
On-line housing platform: STUDAPART
CAF (Housing benefit), Immigration, Social Security registration
Bank account opening, Home insurance
WEIS: Student Association for International Students Integration
Esaip is labelled «Bienvenue en France», which ensures the quality of reception for international students.
HOUSING
ESAIP helps you find accommodation in Reims. Several solutions are available to you :
The lycée Saint-Jean-Baptiste de La Salle is a boarding school, there are available dorms.
Accommodation in a university residence via the CROUS,
Individual accommodation or shared accommodation via private landlords,
Visa guarantee (free guarantee service for all fiscally independent students, scholarship holders or not).
Housing ESAIP by Studapart
Use Housing ESAIP by Studapart to book your accommodation online!
Access hundreds of exclusive offers for periods of 1 to 24 months, close to campus, but also throughout France when looking for an internship or work-study program (studios, flatshares, guest rooms, etc.) . Benefit from personalized support throughout your rental!
Advantages :
Housing offered exclusively to ESAIP students,
Verified ads and secure payment,
Simplified rental file and 100% online procedures,
Up to €300 in aid per month thanks to Assistance alloc' by Studapart,
Studapart guarantee for tenants who cannot have a guarantor
INFORMATIONS
Contact
ESAIP École d'Ingénieurs
20, rue de Contrai
51100 Reims
02 41 96 65 10 | email
Coming at Esaip
By Bike
By train : 45mn from Paris Montparnasse
Catering
Student spaces equipped with microwaves and fridges
Supermarket, restaurants and fast food less than 5 minutes from the Campus
Students restaurants in the city center of Angers 15 minutes by bus
Cost of living
The budget for a student in Reims is estimated to 700 € /month and breaks down as follows:
Housing: on average 500 € /month
Cinema : between 6€ and 13€
Restaurant in the city starting from 10€
Baguette : 0,90€, glass of draft beer : 3,50€
Transportation card : monthly pass from 32€
A DEDICATED TEAM
Romain Etournay, our incoming student coordinator will be on your side to assure you the best experience on the campus.